Results from the 2021 Houzz Bathroom Trends Study
The two most important rooms in your home would probably be the kitchen and the bathroom. Am I right?  We read a lot about what's important in a kitchen remodel, but not a lot about the bathrooms, so we pulled the latest takeaways from the 2021 U.S. Houzz Bathroom Trends Study to pass along to you.
Bathroom Pet Peeves
One of the biggest reasons people choose to remodel their bathrooms is frustration with its current style or function. They "can't stand the old bathroom," the Bathroom Trends Study reports. Most annoying was an old and outdated space, followed by insufficient storage.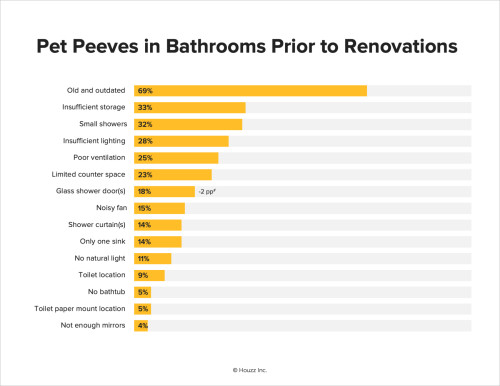 Addressing Special Needs
Aging in place is a big issue when remodeling a bathroom, and homeowners are looking to make those changes now for their future. More than 25% of homeowners claim this as a big reason to remodel.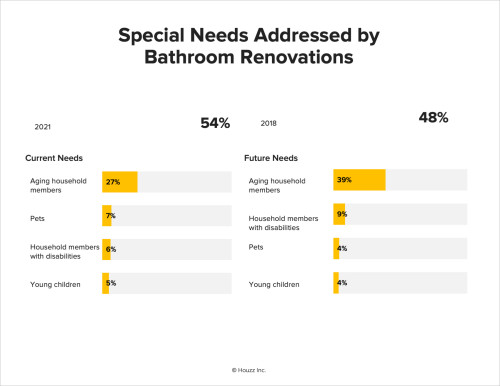 Color Preferences
Remember the harvest gold or baby blue bathroom trends of years gone past? Those color choices have been replaced by homeowners choosing a white palette for their bathroom remodels. White was the top color choice for vanities, countertops, shower walls and non-shower walls due to its sense of cleanliness. It also enhances light, giving the bathroom an airy feel–especially important when the bathroom is small.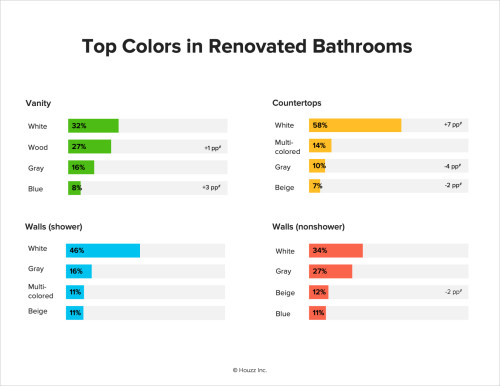 Making Major Bathroom Remodeling Changes
Bathroom trends show that the majority of homeowners chose to keep the same basic footprint when remodeling their bathroom (77%) since enlarging a bathroom would add significant cost or wasn't really feasible within the home's layout. Commonly, most bathrooms are smaller than 100 square feet, with an additional 36% coming in at 100-199 square feet. Only 21% of homeowners have a bathroom sized 200 or more square feet.
The most common changes are reconfiguring the layout (42%), including relocating the shower and modifying existing walls.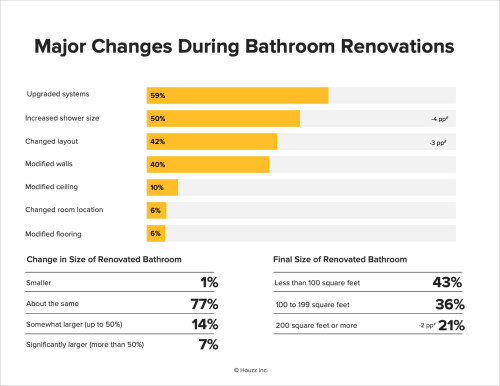 Bathroom Tub Trends
Surprisingly, 1 in 4 homeowners are removing the bathtub during their bathroom remodel, although the majority choose to keep the existing tub or upgrade to a newer model. The most popular bathtub style are the freestanding acrylic soaking tubs, followed by alcove tubs, like the common shower/tub combination, which are rising in popularity–up from 22% in 2020 to 26% in 2021.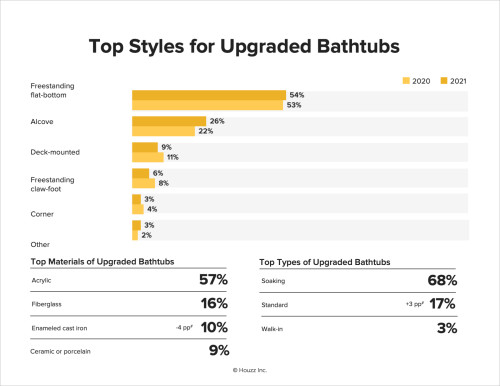 About the 2021 U.S. Houzz Bathroom Trends Study
This study gathered information from just under 3,000 Houzz users who were homeowners ages 18 or older who had completed a master bathroom remodel or addition in the past 12 months, were currently working on one, or were planning the remodel in the next three months. The survey took place between July 21 and July 27, 2021. Read the original study here.
View our Bathrooms Portfolio for inspiration on remodeling your master bathroom!
Choose Schroeder Design/Build for Northern Virginia Remodeling
Whether you want to follow the latest bathroom trends or choose your own style, Schroeder Design/Build can help. We have a team of architects and designers to help you bring your dream bathroom to reality. Contact us at info@SchroederDesignBuild.com, or give us a call at 703-449-1700. We'll be glad to discuss your project and answer any questions you may have on remodeling your master or hall bathrooms, or any remodeling project. We work with homeowners in the Northern Virginia region.
https://www.schroederdesignbuild.com/wp-content/uploads/2021/10/Plummer-After-Photo-1-Master-Bathroom-Shower.jpg
683
1024
Schroeder Design Build
https://www.schroederdesignbuild.com/wp-content/uploads/2021/04/Logo-1-1.png
Schroeder Design Build
2021-10-13 10:39:23
2021-12-20 12:07:31
Results from the 2021 Houzz Bathroom Trends Study