Once you've decided to remodel, your next challenge is to hire the right remodeling contractor. There are many to choose from, so how do you know which one will match both your vision and your budget? In the remodeling world, there are two basic types of remodeling methods: the Design-Bid-Build (DBB) model and the Design-Build (DB) model. Our goal is to show you the design-build advantage for Northern Virginia homeowners and our own unique way of offering more.
Design-Bid-Build vs. Design-Build – How Are They Different?
Under the Design-Bid-Build model, homeowners work with two different companies: one for the design and one for construction. It is a long process that requires several stages. The design process itself is involved, and will take time and a number of revisions normally to complete a set of plans. After the plans are approved, the homeowner must then find a remodeling contractor to build the project. While not necessary, it's also common for homeowners to seek bids from two or three contractors.
Once a remodeling contractor is selected, it is contracted to build your design plan to specifications, leaving no room to make adjustments to the layouts or selections. If any adjustments are required, the homeowner must go back and forth between the designer and contractor until a resolution is reached. This can often lead to delays in construction, potential disputes and lack of accountability, financial losses and even lower quality, especially if the cheapest bid is chosen. Not to mention frustration on all sides.
On the other hand, the Design-Build purchasing model allows the homeowner to work with a single company right from the beginning, from design through construction. In-house design teams work seamlessly with the construction team to creatively problem-solve and deliver a remodeling project that fits your needs, vision and budget requirements. Any adjustments are easily and quickly made before construction begins to keep the project on time and on budget.
The homeowner also benefits from one point of contact—a project manager who is responsible for managing every detail for you. This minimizes stress, results in shorter time frames and creates exceptional value.
Let's explore the various stages along the design-build process and how the Design-Build advantage comes into play.
The Design-Build Design Phase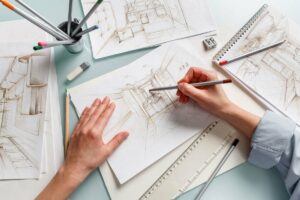 Working with a design-build remodeling firm, you should expect to discuss your project in detail with a designer, answering a series of questions that flush out your priority needs—separating the must haves from the nice-to-haves. The goal is to fully understand your vision for your remodel, how much you'd like to spend, and the timelines that are expected. After measuring your space, checking your home's structure and existing conditions, you can expect your contractor to produce a set of as-built drawings.
Following an on-site review, and a possible vendor/subcontractor walkthrough, the design and construction team will work together to pull together a design plan that fits your every need. During the design phase, you can also expect to shop for selections with your designer to choose the appliances, materials and finishes for your home, worked into the cost analysis.
Once all is approved, your contractor will finalize the plans, provide you with a fixed-price agreement, obtain permits, order materials and prepare your home for construction.
The Design-Build Advantage: The Design-Build system reduces the risks of inaccurate pricing, change orders or miscommunication, and creates a more cost-effective, higher-quality product with detailed budget tracking.
The Design-Build Construction Phase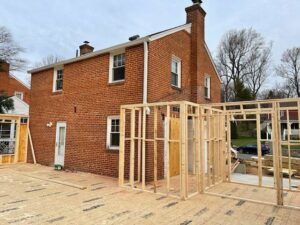 Schroeder Design/Build uses the project management software CoConstruct where your job information, budgets, schedules, selections and photographs are uploaded and available to you 24 hours a day. To encourage collaboration and clear correspondence, every communication is transmitted within your client file.
The Design-Build Advantage: The transition from design to construction is easy using one team. Everyone involved has the same goal of providing you with a high-quality product and a successful completion. Project costs are minimized through creative design and cost-effective methodology.
Why Design-Build is a Smart Long-Term Investment for Your Home
Working with a Design-Build remodeling professional affords you the following advantages that make this choice a smart long-term investment:
Cost Efficiency. You don't need to pay separate fees for an architect, designer and contractor. With one cohesive team, line item costs are easily managed and controlled. Every effort is made to stay within your budget.
Expertise. Every member of the team is a highly-skilled professional. You can expect the highest-quality service at every stage of your remodel.
Product Quality. The design team personally helps you select the products, materials and finishes you want, at the cost level you can afford. This results in the highest-quality products at the best price.
Long-term Enjoyment. Your design-build remodeler team works together to ensure that your new space not only serves your needs, but delights you for years to come.
The Design-Build Advantage of Schroeder Design/Build
Since 1986, Schroeder Design/Build has been creating award-winning remodeling for homeowners throughout Northern Virginia. With our tried-and-true Design-Build process, our multi-concept approach, and comprehensive services for design, remodeling and new home construction, we bring your vision to life.
Unlike other design-build firms, Schroeder Design/Build goes the extra mile to provide you with a set of three design concepts. We'll create one set of drawings and floor plans that exactly match your budget. We'll create another set that meets your dreams—but may be outside of your budget. We'll also offer a third set with our recommendations on how you can meet in the middle to get what you want at the budget you have. We'll discuss the options and the cost implications to help you finalize your decision, making revisions based on your feedback on designs and selections until we come to a final concept.
View our Portfolios and Houzz pages for photos that will inspire your remodel. And read the stories behind some of our favorite projects on our Project Story pages.
Contact Schroeder Design/Build for Award-Winning Design and Service Excellence
To learn more about the Design-Build advantage for your home, contact Schroeder Design/Build at 703-449-1700 or info@SchroederDesignBuild.com. We offer a complimentary design consultation.
https://www.schroederdesignbuild.com/wp-content/uploads/2022/05/design-build-AdobeStock_189984006.jpg
712
1200
Schroeder Design Build
https://www.schroederdesignbuild.com/wp-content/uploads/2021/04/Logo-1-1.png
Schroeder Design Build
2022-05-12 13:49:56
2022-05-12 15:55:46
Schroeder's Unique Design-Build Advantage in Northern Virginia Remodeling