You may think composting is a daunting and messy task you may not want to get your hands in, but the benefits of composting simply outweigh the small amount of work required to put your food scraps to a better purpose than the trash. Composting can not only feed your household plants with essential nutrients, it can also greatly benefit the planet.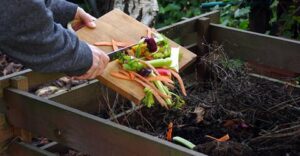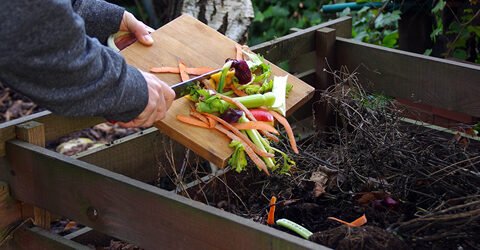 The 3 Main Household Composting Materials
Composting keeps landfills cleaner while minimizing the release of methane into the atmosphere. According to the Environmental Protection Agency's (EPA) article on composting, three main types of compost come from your kitchen:
Vegetable waste
Fruit scraps
Coffee grounds
In addition to these, two other crucial elements generate a proper compost development: "browns" and the right amount of water. Examples of "browns" are twigs, dead leaves and branches. The combination of your kitchen waste, browns, and water encourages a healthy compost development.
The Composting Process
As recommended by the article "The Composting Process" from the University of Illinois, brown materials supply carbon, while green materials, such as fruit rinds and vegetable waste, release nitrogen. Water is the essential accelerant for those two elements to work with one another to create the perfect fertilizer for your plants.
How to Compost at Home
Not sure what to compost at home? Here is a helpful list from the EPA's "What to Compost:"
Fruits and vegetables
Eggshells
Coffee grounds and filters
Tea bags
Nut shells
Shredded newspaper
Cardboard
Paper
Yard trimmings
Grass clippings
Houseplants
Hay and straw
Leaves
Sawdust
Wood chips
Cotton and wool rags
Hair and fur
Fireplace ashes
Composting is great for your plants and the environment, though there are certain things you want to avoid composting from your kitchen. Do not compost the following foods. They not only produce odor issues, they can attract pests:
Dairy products
Fats, grease, lards and oils
Meat or fish bones
How You Can Impact the Planet: Reducing Greenhouse Gas Emissions
Greenhouse gases can be dangerous to the earth's atmosphere, however, composting can help prevent the release of harmful CO2. According to the US Composting Council, although all organic discards contain carbon when they decompose "naturally under aerobic conditions," the materials become part of a natural carbon cycle that is "removed from the atmosphere by plant photosynthesis, moved among organisms through the foodweb and released via composition."
The Beauty of Composting
Composting brings beauty to your surroundings. Using it as fertilizer feeds your garden and can either help it flourish or bring it back to a healthy and lively state. The next time you think about throwing out your kitchen scraps, think again. You could have all the benefits of fertilizer without paying a cent!
We're All About Green Living at Schroeder Design/Build
For more information on Green Living, read our blog post titled: "A Guide to Eco Friendly Home Design."
If you're thinking about remodeling, either indoors or outdoors, or are interested in eco-friendly ways to improve your home, contact us here at Schroeder Design/Build. Serving clients throughout Northern Virginia.
"Like" us on Facebook to receive our latest news, special offers and invitations.
https://www.schroederdesignbuild.com/wp-content/uploads/2022/01/composting-at-home.jpg
250
480
Schroeder Design Build
https://www.schroederdesignbuild.com/wp-content/uploads/2021/04/Logo-1-1.png
Schroeder Design Build
2022-01-18 10:54:55
2022-01-18 10:56:10
The Composting Process: How to Use Your Unwanted Food Scraps to Feed the Planet